Italy police quizzed over Berlusconi girl Ruby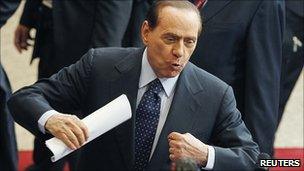 A former Milan police chief has been questioned by prosecutors amid allegations of abuse of power by Italian PM Silvio Berlusconi.
The allegations centre around a teenage girl, who was released from a police cell following the intervention of the prime minister.
Mr Berlusconi has denied any improper conduct with the girl, known as Ruby, saying he simply took pity on her.
But he is facing mounting media pressure and calls for his resignation.
Vincenzo Indolfi, who was commander at the Milan police station at the time Ruby was taken in, was questioned for about an hour on Monday by the prominent investigator Ilda Boccassini, the Italian news agency Ansa reported.
Mr Indolfi has been reported as insisting that his station "followed procedures" when, having arrested Ruby on suspicion of stealing 3,000 euros (£2,600), it released her after taking a call from the prime minister's office.
Italian media have reported that Mr Berlusconi called the station in person, asking for her release, and claiming (incorrectly) that she was the granddaughter or niece of the president of Egypt.
On her arrest, Ruby, a 17-year-old Moroccan-Sicilian runaway, had allegedly claimed to know Mr Berlusconi, and reported attending his villa for parties, where sex games took place.
She said he had taken her under his wing and, after hearing of her troubles, gave her a 7,000-euro gift. She says they did not have sex.
Mr Berlusconi has admitted sending an aide to take custody of Ruby from the Milan police station.
"I'm a person of the heart, and I take action whenever there is someone in need of help," he said.
But opposition politicians and Catholic newspapers have deplored the latest incident they say brings shame and ridicule on the prime minister and the country.
And the Speaker of parliament, Gianfranco Fini, said Mr Berlusconi had "put Italy in an embarrassing position".
He said Mr Berlusconi "should go" if the claims of direct intervention into police matters were true.
Mr Berlusconi's political career - though not his marriage - has survived a string of scandals over his relationships with women.
Last year, his wife filed for divorce, accusing him of "consorting with minors" after he attended the 18th birthday party of an aspiring model.
Later that year, an escort girl said she was paid to attend one of Mr Berlusconi's parties, and slept with him.
While he brushed aside those scandals, correspondents say this case comes at a time when he is already sliding in the opinion polls, and when Mr Fini, his ally turned rival, could pull his parliamentary support at any time.