Russia convicts injured editor as fears for media grow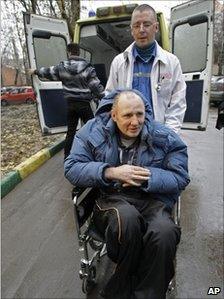 A Russian editor nearly beaten to death two years ago has been convicted of slander as fears grow for journalists covering plans for a new motorway.
The court in Khimki, near Moscow, convicted wheelchair user Mikhail Beketov of slandering the local mayor and ordered him to pay nominal damages.
He had reported on plans to build the road through Khimki's protected forest.
While the motorway plans have been frozen, another journalist and an ecologist were attacked this month.
Oleg Kashin, a correspondent with Russia's respected Kommersant newspaper, is in intensive care after being savagely beaten with an iron bar by two unknown assailants on Saturday. Some of his fingers were smashed in the attack.
Two days earlier, Khimki opposition activist Konstantin Fetisov had his skull fractured in an assault after being released from a police station, where he had been questioned about a protest.
Mikhail Mikhailin, editor-in-chief of Kommersant, said he was sure the attack on Mr Kashin was connected with articles he had written.
"This is the third incident of somebody being badly beaten [after] Beketov and Konstantin Fetisov," he said.
"The style, the character of the crime, is very much similar to the Khimki beatings."
Mikhail Beketov suffered brain damage and lost his right leg and four fingers in the attack outside his home in Khimki on 13 November 2008.
On Tuesday, Mayor Vladimir Strelchenko told the court he saw no grounds for withdrawing the complaint he had lodged with police against the journalist.
Judge Arkady Khalatov found Beketov "guilty of slander by knowingly spreading false information tarnishing the honour and professional reputation of an individual".
He was ordered by the Khimki court to pay nominal damages of 5,000 roubles (£101) but the judge added that Beketov should not be punished due to the time that had elapsed since the offence was committed.
A lawyer for the convicted man said he would appeal.
Before the attack, Beketov's car was set on fire and his dog was killed, and the editor of Khimki newspaper Khimkinskaya Pravda had publicly accused Mr Strelchenko of trying to intimidate him.
Beketov needed eight operations in hospital before finally returning home a few weeks ago. He appeared in court in a wheelchair and had great difficulty speaking.
Nobody has been prosecuted for the attack which left him crippled.
Russian President Dmitry Medvedev halted the construction of the motorway through Khimki in August, pending a public inquiry.
His decision came after a high-profile campaign by environmentalists which attracted international support, including an intervention by the Irish rock star Bono.
The forest had already been partly chopped down to make way for the new multi-lane motorway between Moscow and St Petersburg, which is meant to run alongside the existing two-lane road between Russia's two main cities.
If the motorway project is abandoned, both investors and local officials stand to lose out financially.
Road construction is considered to be one of Russia's most lucrative sectors.
Doubts have been raised over reports this week of another attack on a journalist covering a road construction story in a different green area outside Moscow, the Tsagovsky Forest.
It was initially reported that Anatoly Adamchuk had been beaten up outside the offices of his newspaper in the town of Zhukovsky.
However, police said on Wednesday that two people arrested over the attack had given evidence the journalist staged the assault himself. There was no immediate comment from Mr Adamchuk.
Related Internet Links
The BBC is not responsible for the content of external sites.