Azerbaijan frees 'donkey' satire blogger Adnan Hajizade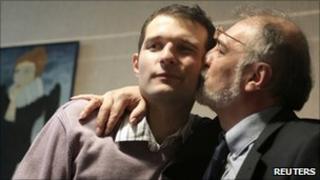 A court in Azerbaijan has freed an opposition blogger who posted a satirical video online of a pantomime donkey giving a press conference.
Adnan Hajizade and another man, Emin Milli, were jailed for two years on hooliganism charges in November 2009.
The two men and their supporters claim the charges were fabricated to stifle their anti-government campaigns.
A court ruled on Thursday that Mr Hajizade could serve the remainder of his sentence as a suspended term.
Press freedom
Mr Hajizade and Mr Milli were arrested after a scuffle in a restaurant in Baku, the Azeri capital, in July 2009, soon after the video was posted.
The film quickly became a symbol of perceived intolerance of freedom of expression in Azerbaijan.
The campaign for their release was taken up by President Barack Obama in September this year when he urged the Azeri authorities to free the men.
After he was freed on Thursday, Mr Hajizade appealed for the release of fellow blogger Emin Milli. A court is expected to hear an appeal against his sentence in the coming days.
Human rights groups say oil-rich Azerbaijan has grown increasingly authoritarian in recent years.
The latest press freedom index by Reporters without Borders rates Azerbaijan 152nd on the list of 178 countries.