Political shake-up looms after Irish bail-out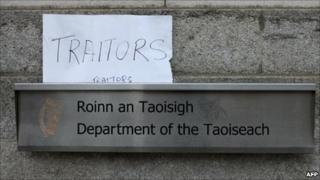 A general election seems inevitable early next year, but it will not be the magic wand that solves Ireland's problems.
To be blunt, there is no shortage of politicians in Dublin - it is money which is hard to find.
For every 5bn euros that the Irish government spends, it is having to borrow 2bn.
That is the gap that the next government will have to try to fill.
Right-left coalition?
The ruling Fianna Fail party has dominated Dublin politics throughout the history of the Irish Republic. During the past three decades, it has been in power almost continuously.
However, it would be a surprise if it survives the wrath of the voters when Ireland next goes to the polls.
Its current coalition partner, the Green Party, is also likely to be punished.
As in the UK, the government in power during an economic decline tends to be blamed for the bad years, and the good years are forgotten.
A snapshot of the mood of the people will emerge on Friday when the votes are counted in the Donegal South West by-election.
In theory, it is a safe Fianna Fail seat. It polled more than 50% of the vote at the last election in 2007.
Sinn Fein are the bookmakers' favourites to win the seat this time. It has a strong local candidate, Pearse Doherty, so it should not necessarily be seen as a countrywide trend.
Sinn Fein is still a relatively small player in Irish politics, with only four seats in the 166-seat parliament.
The decision by party president Gerry Adams to contest the next election, in County Louth, may boost its representation but it is not expected to lead to a seismic change in its fortunes.
The most likely shape of the next government is a right-left coalition between Fine Gael and Labour. The current Fine Gael leader, Enda Kenny, would be prime minister, or taoiseach as it is called in Ireland.
He is a quiet, almost shy character, not blessed with great charisma. Even some in his own party are not convinced about his leadership skills, but he would be the epitome of a safe pair of hands for a time of crisis.
A weekend opinion poll (Sunday Business Post/Red C) suggested the current state of the parties as follows: Fine Gael 33%; Labour 27%; Fianna Fail 17%; Sinn Fein 11%; Greens 3%; Independents 8%.
In order to cause an upset at the polls, Fianna Fail may decide to dump its leader before an election.
Taoiseach Brian Cowen has just endured his worst week in politics with his U-turn from "no bail-out" to "please give us a bail-out" in the space of seven days.
Possible successors are ministers Mary Hanafin, Micheal Martin, Dermot Ahern and even current Finance Minister Brian Lenihan.
Everywhere you look in Irish politics at the moment there is uncertainty. An election should bring some stability.
The truth is an election has seemed likely for some time, as the coalition majority has slipped to just three seats in parliament.
However, governing Ireland will not be easy, no matter who wins at the polls.
With no spare money, and little room for manoeuvre, the job of the next Irish prime minister may be the most difficult in western Europe.