Bruce Willis new face for Russian bank ad campaign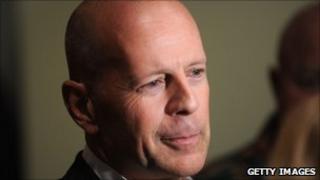 Hollywood action star Bruce Willis has been chosen to front a Russian bank's advertising campaign in Moscow.
The Die Hard star, 55, will feature in the ads for at least a year, according to a statement from Trust Bank.
The role was previously filled by Russian weightlifter and film actor Vladimir Turchinsky, who died last year aged 46.
The bank did not divulge the deal's cost, but said Bruce Willis reflected its values of "trust and dignity".
Posters of the actor were hung up on streets in Moscow on Monday accompanied by the slogan: "Trust is just like me, but a bank."
Bruce Willis is renowned for his tough-guy image, largely from the Die Hard series of films, and he has recently been promoting the comedy Red.
In a separate development, Moscow Mayor Sergei Sobyanin was reported to have said on Tuesday that outdoor advertising in the city was getting out of hand.
Advertising had grown by 50% in recent years and Moscow had become overloaded with advertising, he said, in remarks reported by Ria Novosti news agency.