Analysis: Stealing Christmas in Ireland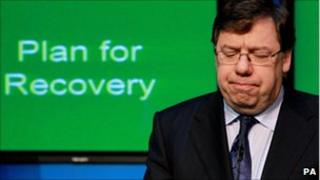 Ireland's grim new austerity package will win the Irish prime minister friends abroad, but enemies at home.
Brian Cowen will be seen by his fellow European leaders as a brave statesman prepared to take tough domestic decisions for the greater good.
However, around the towns and villages of Ireland, the taoiseach and Finance Minister Brian Lenihan will be seen by many as the men who have just spoiled Christmas.
And next Christmas. And the next Christmas. And the Christmas after that too.
The four-year economic plan is packed with public spending cuts, benefit reductions and tax rises.
Even the minimum wage could not escape.
The reduction from 8.65 euros to 7.65 euros demonstrated that during an economic crisis even a "minimum" can be lowered.
'Long goodbye'
Mr Cowen is a prime minister living on borrowed time - and borrowed money.
The 85bn euro loan package which he is negotiating with the IMF and the European Union may save Ireland, but it is unlikely to save him.
The prospect of a pre-Christmas election has receded, but a New Year poll is inevitable.
Mr Cowen may be able to hang on until March but essentially it is merely a long goodbye.
His government started to unravel after the announcement earlier this week by his junior coalition partner, the Green Party, that it intended to pull out of the cabinet in January.
Then some of the backbenchers in his Fianna Fail party turned against him.
If they can gather 18 signatures, they can formally try to remove him.
That is unlikely to be necessary. Once the Irish budget starts going through the Dail (parliament) next month, Mr Cowen may announce that he intends to step down from the party leadership once an election is called.
Timetable
In recent days, he has looked exhausted, and if his leadership is challenged - which looks likely - it would be a surprise if he decided to battle on.
It is still a fluid political situation, and anything could happen, but a possible timetable of events is emerging.
The government will present its budget for 2011 to the Dail on 7 December. The bail-out negotiations are expected to be concluded before Christmas.
As a result of the budget, new legislation will have to be passed. The process will drift into the new year, and once it is concluded an election will be held.
Opposition parties will come under huge pressure to pass the budgetary measures, for the good of the country.
They could try to halt the whole process by tabling a motion of no confidence in the government and trying to force a snap election.
Breaking point
Significantly, the largest opposition party Fine Gael has so far failed to do so. That suggests they may be prepared to consider voting for the budget.
Like everyone else, they will first have to see what is in the budget plan.
Brian Cowen is appealing to all parties to pull together in the coming weeks, but it seems his leadership is falling apart.
His nickname is Biffo, and he is an experienced political battler.
But like Ireland's public finances, he seems to have reached breaking point.