Russian journalist attacks state of television news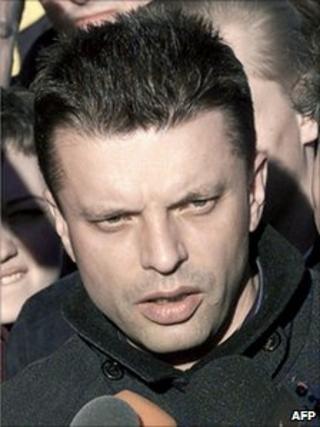 One of Russia's most respected journalists, Leonid Parfyonov, has launched a stinging attack on the state of television news in his country.
He said that Russian TV correspondents were no longer journalists, but bureaucrats serving the state.
Mr Parfyonov spoke after receiving a prestigious award in Moscow.
Listening to his speech were some of the biggest names in Russian TV - including the controllers of the main channels.
Mr Parfyonov said that what news bulletins on Russian TV were broadcasting today was not news - it was PR for the authorities.
"The correspondent is... not a journalist but a bureaucrat, following the service and logic of obedience," he said.
He pointed to the absence of critical, sceptical or ironic commentary on TV about the prime minister or president.
The views of a quarter of the Russian population that was critical of the authorities were, he said, simply ignored.
'Perennial technique'
Mr Parfyonov said TV news bulletins had become reminiscent of Soviet times - when instead of proper news reports, there was footage of the country's leaders meeting ministers, governors and foreign leaders.
"Behind every politically important TV broadcast, one can see the goals and objectives being pursued by the authorities, their moods and attitudes, their friends and enemies.
"It is a perennial technique known to anyone who experienced central television in the USSR," he said.
Mr Parfyonov also spoke about the newspaper journalist Oleg Kashin, the investigative reporter who was attacked recently in Moscow.
There was no TV journalist in Russia, Mr Parfynov said, on a par with Mr Kashin.
He concluded that most Russians today didn't see the need for journalism.
"Those who say so what, a journalist's been beaten up, it happens all the time," he said, "don't understand that when a journalist takes risks in his professional work, it's for the sake of his audience."