Putin not to attend Fifa decision over 'smears'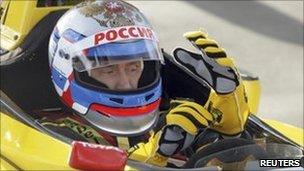 Russian Prime Minister Vladimir Putin has confirmed he will not be in Zurich for Fifa's decision on the 2018 World Cup on Thursday.
He said Fifa had been the victim of a smear campaign and should be left to make its decision "in peace and without any outside pressure".
He did not elaborate but appeared to be referring to the BBC report and others on alleged corruption within Fifa.
England is bidding for 2018 against Russia, the favourite.
A personal appearance by Mr Putin might have clinched the bid, correspondents say.
If successful, Russia will be hosting the World Cup for the first time.
The 22 officials on Fifa's executive committee will vote in secret on Thursday, after hearing presentations by the four bidders.
Apart from Russia and England, there are two joint bids - by Spain and Portugal, and the Netherlands and Belgium.
No European states are bidding to host the 2022 tournament, which is also being decided by Fifa on Thursday.
'Unscrupulous competition'
Mr Putin said he had informed Fifa by telephone that a deputy prime minister, Igor Shuvalov, would make Russia's presentation on Thursday morning, as previously scheduled.
"We have unfortunately witnessed a campaign against members of the Fifa executive - filth and compromising material has been poured over them," he told ministers in Moscow.
"I see this as unscrupulous competition ahead of the vote.
"I would love to represent our entry in person. However, under these circumstances, I think it would be best not to go out of respect for the members of the Fifa executive committee, so that they can make their decision in peace and without any outside pressure."
The BBC has defended a Panorama documentary which alleged three members of Fifa's executive committee (Exco) took bribes in the 1990s.
Nicolas Leoz, Issa Hayatou and Ricardo Teixeira took the money from a sport marketing firm awarded lucrative World Cup rights, Panorama alleged.
Denying any wrongdoing, Mr Hayatou has threatened to sue. Mr Leoz and Mr Teixeira are said to have also denied wrongdoing.
Fifa's position is that the three were investigated by a Swiss court in 2008, none was accused of a crime and the case is closed. All three men will be voting on Thursday.
Two Exco members, Amos Adamu and Reynald Temarii, were suspended following allegations of wrongdoing made by the Sunday Times newspaper in October.
Accompanying Mr Shuvalov to Zurich are Chelsea owner and billionaire Roman Abramovich, Arsenal forward Andrei Arshavin, opera diva Anna Netrebko and conductor Valery Gergiyev.
Star power of its own is not enough to clinch decisions like Fifa 2018, as US President Barack Obama's visit to Copenhagen last year proved when Chicago lost its bid to host the 2016 Olympic Summer Games to Rio de Janeiro.
However, Mr Putin's presence was considered a crucial factor for Russia when Sochi won the right to stage the 2014 Winter Olympics.
Russia has promised visa-free travel for World Cup ticket-holders, participants and guests, and has an ambitious project of construction and improvement work for host cities which would stretch from Kaliningrad to Yekaterinburg in the Urals.
A shortage of budget hotel accommodation, huge distances between venues and a record of racism in domestic league football are often cited as potential weaknesses in its bid.
Writing on Russian sports website Sovetsky Sport on Wednesday, commentator Alexander Chernov rated his country's bid as by far the strongest, arguing that its key assets were the country's sheer scale and its marketing potential.
The chief obstacles were, he said, prejudice against Russia and a relatively late start for its bid.
The Russian commentator ruled out Spain/Portugal because of the two countries' economic woes while Netherlands/Belgium, he said, lacked international stature, notwithstanding their claim to be the most ecologically friendly hosts, boasting venues within cycling distance of each other.
While acknowledging England's claim to be the home of football and admiring the professionalism of their bid, Alexander Chernov saw the two chief obstacles to English success as being: "Russia, and their own English arrogance."
Moscow successfully hosted two international football finals in the past - the Uefa Cup in 1999 and the Champions League in 2008. It also staged the 1980 Olympic Games.
Related Internet Links
The BBC is not responsible for the content of external sites.