EU aims to make foreign drivers pay for offences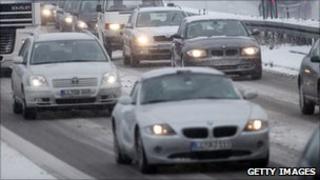 The EU plans to give police new powers to prosecute European drivers who break the law in another EU member state.
EU transport ministers will discuss a draft directive on Thursday which aims to set up an EU-wide database of vehicle registration details.
"A foreign driver is three times more likely to commit an offence than a resident driver," EU Transport Commissioner Siim Kallas said.
Many drivers currently escape penalties when they return to their home country.
The draft directive from the Commission calls for cross-border enforcement to curb four "big killers", which account for 75% of road deaths: speeding; ignoring red lights; failure to wear a seatbelt and drink-driving.
National controls remain
According to EU data cited by Mr Kallas, foreign drivers account for 5% of traffic in the 27-nation bloc, but about 15% of speeding offences.
The national rules of the country where the offence was committed will apply.
The EU legislation does not seek to standardise penalties for offences - it will still be up to national authorities to decide what action to take.
Parking fines will not be covered by the legislation.
The Commission also says the proposal deals only with financial penalties - not with penalty points linked to driving licences.
In many cases national police forces currently struggle to identify and track down foreign drivers whose vehicles are registered outside the country where the offence took place.
The level of offences by non-residents is highest in countries such as France and Belgium, where many drivers are just passing through or on holiday, the Commission says. During very busy periods as many as half the offences are committed by non-residents in those countries.
If EU ministers accept the plan, it will go to the European Parliament for approval. If Euro MPs vote for it, the member states then have two years to put the legislation into effect.