Putin aide denies Wikileaks Russia 'mafia state' claims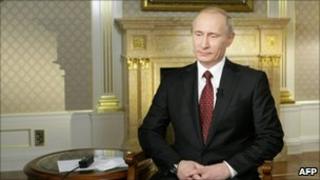 A spokesman for Russian Prime Minister Vladimir Putin has rejected allegations that his government has links with organised crime.
Dmitry Peskov was responding to the latest leaked diplomatic cables published by the Wikileaks website.
He said the dispatches, if they were authentic, showed that some diplomats were ignorant and unprofessional.
Referring to allegations about Mr Putin's personal wealth, Mr Peskov called them ridiculous.
The cables published by Wikileaks paint a picture of a corrupt Russia centred around the leadership of Mr Putin.
A Spanish prosecutor, Jose Grinda Gonzalez, was quoted as telling US officials that Russia had become a virtual "mafia state".
Mr Peskov told the BBC it was unclear if the cables were genuine - but if so, they revealed an "ignorance" which was "something beyond understanding".
"It's extremely striking and amazing for us that there are diplomats of foreign countries working here in our country and having such a perverted understanding of reality," he said.
'Pulp fiction'
Mr Peskov said the authorities were working to tackle individual cases of official corruption, and denied the mafia was in charge.
"Law enforcement officials in every country, single persons, can be related to the criminal circus. This is a criminal world and we are doing our best, like the rest of the world, to combat that disgusting co-operation," he said.
Asked about allegations that Mr Putin had billions of dollars hidden in Swiss bank accounts, Mr Peskov likened them to "pulp fiction".
"It's something like, you know, putting rumours in a washing-machine and enjoying the process... I can hardly understand that fact that it is being written in official cables," he said.
Mr Putin has already appeared on American television to dismiss earlier leaked criticism of himself and Russia. He said it was slanderous and possibly a campaign of disinformation.