Ukraine police clear Kiev tax protesters' camp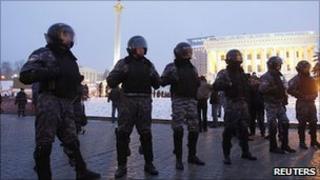 Ukrainian police have dismantled tents set up by protesters in central Kiev who were demanding that the government scrap a new tax code.
Hundreds of policemen swept through the encampment in Independence Square, reportedly meeting no resistance, then cordoned off the area.
Most demonstrators had already withdrawn after MPs adopted an amended version of the controversial code.
The winter tent city was reminiscent of Ukraine's 2004 Orange Revolution.
On Tuesday, President Viktor Yanukovych responded to the protests by vetoing the original tax code and sending it back to parliament to be amended.
Before police moved in on Friday crowds had gathered every day in the capital, sometimes numbering more than 10,000.
Ukrainian officials said the new tax code was necessary to meet conditions set down by the International Monetary Fund to revive the country's ailing economy.
But critics said the new tax code came down hardest on small entrepreneurs and favoured big businesses.
In 2004 protesters camping out in Kiev forced Mr Yanukovych from power after he had won a rigged election, in what was dubbed the "Orange Revolution". The re-run election was won by his bitter rival, Viktor Yushchenko.