Portrait of Nato chief unveiled at Danish parliament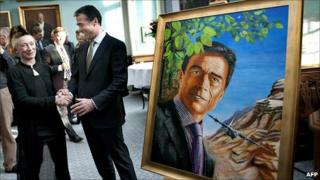 An official portrait of Anders Fogh Rasmussen, the current Nato secretary-general and former Danish prime minister, has been unveiled.
He was on hand with artist Simone Aaberg Kaern to see the picture displayed at the Danish parliament in Christiansborg Palace, Copenhagen.
It shows a beaming Mr Fogh Rasmussen in a rocky landscape with a military plane flying in the background.
Aaberg Kaern is the first woman artist chosen to portray a Danish ex-premier.
She is mainly known for her video art and, in particular, an Afghan documentary called Smiling in a Warzone.