EU ministers agree to widen human trafficking net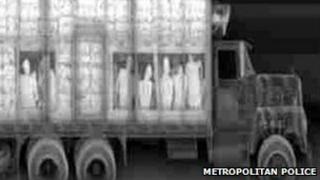 The definition of human trafficking in the EU is set to be widened to include "instigating, aiding, abetting or attempting" to commit the offence.
Justice ministers also agreed maximum jail sentences of at least five years for trafficking, rising to 10 where there are aggravating circumstances.
The changes are expected to be adopted by the European Council and European Parliament shortly.
They will not apply in the UK and Denmark unless they opt in.
The EU's 25 other states are expected to apply the new directive within two years.
Multi-billion profits
Aggravating circumstances include trafficking in particularly vulnerable victims, such as children, and the involvement of a criminal organisation.
In cases where the perpetrator is a legal entity, there will be other possible sanctions such as fines.
According to a UN conservative estimate, the number of people being trafficked in the world at any one time is 2.5 million.
The illegal trade generates tens of billions of dollars in profits for criminals each year, it says.