Continental 'responsible' for Concorde crash in 2000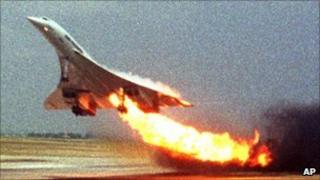 A Paris court has said Continental Airlines was "criminally responsible" for the crash of a Concorde supersonic jet 10 years ago, and fined it 200,000 euros (£170,000).
It has also been ordered to pay 1m euros to the jet's operator Air France.
A Continental mechanic, John Taylor, was given a 15-month suspended prison sentence over the crash.
Continental has said it will appeal, saying the verdict is "absurd" and "only protects French interests".
Another airline operative, Stanley Ford, and three French officials were cleared.
The Concorde caught fire shortly after take-off from Charles de Gaulle airport in Paris in July 2000, killing 113 people.
The court ruled that the crash was caused by a piece of metal left on the runway after falling from a Continental jet. Investigators said this caused a tyre-burst in the Concorde, which in turn ruptured a fuel tank.
The judge in the case confirmed investigators' findings that titanium debris dropped by a Continental DC-10 onto the runway at Charles de Gaulle airport before the Concorde took off was to blame.
Mr Taylor should not have used titanium parts to make repairs on the DC-10 because the metal was known to be too dangerous for aeroplane tyres, and he should have used a softer metal, aluminium, instead, the court found.
Continental had disputed this interpretation, saying the airliner, operated by Air France, was already in flames before it hit the small piece of titanium.
"While we agree with the court's decision that Stanley Ford was innocent of the charges he faced and we share his relief that his decade-long nightmare is over, we strongly disagree with the court's verdict regarding Continental Airlines and John Taylor and will of course appeal this absurd finding," a UK-based Continental spokesman said in a statement.
"Portraying the metal strip as the cause of the accident, and Continental and one of its employees as the sole guilty parties, shows the determination of the French authorities to shift attention and blame away from Air France, which was government-owned at the time and operated and maintained the aircraft, as well as from the French authorities responsible for the Concorde's airworthiness and safety."
Compensation
Financial claims were not the trial's focus, but apportioning blame was, says the BBC's Christian Fraser in Paris.
However, the court ruled that Continental should pay 70% of any compensation claims to the families of victims. Aerospace group EADS was asked to pay the remaining 30%.
Following Monday's verdict, Air France, which paid out 100m euros in compensation, may decide to seek to reclaim some of that money from Continental.
There is a separate court case taking place over economic compensation for the crash.
Most of the passengers were German tourists heading to New York to join a luxury cruise to the Caribbean. Nine French crew members and four hotel workers also died.