Greek protesters mark teenage death with police clashes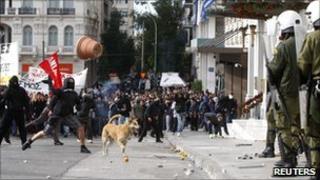 About 4,000 youths have clashed with riot police in Athens, in protests marking the fatal shooting of a 15-year-old boy by police two years ago.
Demonstrators hurled stones, petrol bombs and oranges at police who responded with tear gas.
At least three people were hurt and 40 protesters were detained as the clashes spread to several areas of the city.
Alexis Grigoropoulos's fatal shooting during a police night patrol sparked a wave of violent protests across Greece.
In October, a policeman was jailed for life for his murder and a second was given a 10-year term for complicity.
Monday's protests, like the protests two years before, were fuelled by anger at Greece's economic crisis.
Red paint was daubed on the headquarters of the Bank of Greece and several shop-fronts were smashed.
Main roads in the centre of Athens were closed to traffic and a civil servants' union called a three-hour strike.
A demonstration also took place in the northern city of Thessaloniki.