Ex-minister Berislav Roncevic jailed in Croatia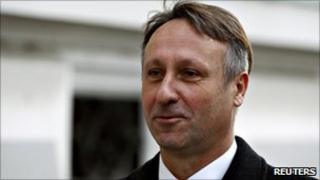 A former Croatian defence minister has been sentenced to four years in jail for mismanaging state funds and abuse of power.
A court found Berislav Roncevic guilty of the charges relating to a 2004 deal to buy military vehicles.
It ordered that 1.4m euros (£1.2m; $1.8m) would have to be repaid to the state.
An aide to the former minister, Ivo Bacic, was jailed for two years on the same charges.
The judge, Jasna Smiljanic, ruled that Mr Roncevic worked in the interests of the Italian truck firm Iveco instead of state interests when he approved the 2004 purchase of the military vehicles.
He and Mr Bacic agreed to buy the vehicles from Iveco at a cost of 1.4m euros more than the most expensive vehicles offered in a previous public tender that was cancelled.
They had both pleaded not guilty in the court in the capital, Zagreb, and had said that the vehicles offered in the tender did not meet the necessary technical criteria. They have the right to appeal.
Mr Roncevic is currently a member of parliament for the governing centre-right Croatian Democratic Union.
He served as defence minister from 2003 to 2008, and was then appointed interior minister but was sacked from that post in October 2008 following a spate of violence in Zagreb.
Croatia's fight against corruption is being closely monitored by the European Union, which the former Yugoslav republic hopes to join by 2012.