Eric Cantona cash withdrawal protest fizzles out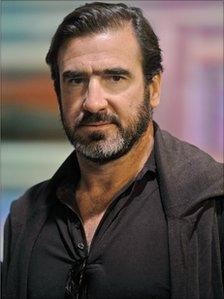 Few French people have responded to a call by ex-footballer Eric Cantona for people to punish banks by withdrawing all their cash.
Cantona had gone online to call for customers to empty their accounts on Tuesday in a "revolution" against a "corrupt, criminal" banking system.
But he himself failed to turn up at a bank where he had promised to withdraw "more than 1,500 euros".
EU financial leaders have described the protest as irresponsible.
Cantona had informed a branch of BNP Paribas in the northern town of Albert that he intended to make the withdrawal, branch manager Antoine Poissonier told AFP news agency.
But by the time the bank closed for the day the ex-footballer had still had not made an appearance, the agency says.
It also emerged on Tuesday that Cantona's actor wife Rachida Brakni had starred in a television advertisement for Credit Lyonnais that was widely broadcast earlier this year.
Cantona, a big name from his days at Manchester United, said earlier in a video posted online: "The three million people in the street, they go to the bank, withdraw their money, and the banks collapse.
"That's a real threat, there's a real revolution."
His appeal spread through Facebook and YouTube. He was said to have at least 38,000 supporters in France and elsewhere.
A woman who gave her name as Isabelle told AFP on the Boulevard de Strasbourg in central Paris that she was going to take out 500 euros. "I can't do more," she added.
Banking institutions around France said they had seen business as usual, AFP reported.
Jean-Claude Juncker, head of the Eurogroup of finance ministers and prime minister of Luxembourg, said earlier: "I have various feelings towards the financial sector but I find the operation you are referring to totally irresponsible."
Joining the condemnation, French Finance Minister Christine Lagarde remarked that citizens "do not have the savings he has".
In Belgium, the head of the country's central bank, Guy Quaden, condemned Cantona's appeal, while saying he understood popular "animosity" towards the financial sector.
"Nobody can wish for the banking system to collapse," Mr Qaden told RTBF radio.
Olli Rehn, the EU's powerful economic affairs commissioner and himself a former director of a Finnish first division club, said he considered himself a Man United fan.
But he added: "I think Mr Cantona is a better footballer than he is an economist."