Greek pensioners take to streets as IMF head visits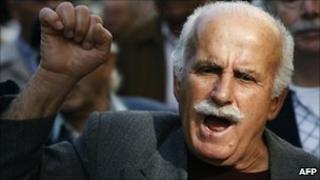 Hundreds of Greek pensioners have protested in the capital, Athens, as the head of the International Monetary Fund arrived for loan extension talks.
They said that austerity measures imposed by the government had brought them to destitution and ordinary people were being punished unfairly.
Greece wants to extend the repayment of a 110bn euro (£95bn, $146.2bn) loan that saved the country from default.
IMF chief Dominique Strauss-Kahn urged Greece to focus on growth.
"What has to be done now is to restore growth," he said after meeting Prime Minister George Papandreou.
Over the past year, Greece has cut wages, curbed tax evasion and raised VAT in order to meet the country's obligations to the EU, IMF and European Central Bank.
Finance Minister George Papaconstantinou has promised further cutbacks in the years to come.
"I receive 350 euros," one pensioner said on Tuesday's march, which ended at the finance ministry.
"How can I live on 350 euros? My husband has passed away and this is all I am left with. How do I survive on this?"
Dimitris Karpathiotis, deputy head of local pensioners' union, said: "They have brought all pensioners to destitution.
"We fight these policies which serve other interests. This policy serves the rich and not the pensioners."
According to the Associated Press news agency, about 500 pensioners took part in the march.