Could Puglia governor Nichi Vendola be 'Italy's Obama'?
By Rosie Goldsmith
BBC News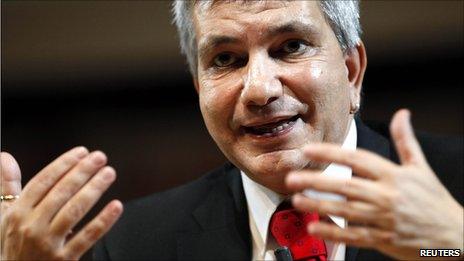 Next week the Italian Prime Minister Silvio Berlusconi faces a vote of confidence in parliament. If the result triggers an election, could Nichi Vendola be the man to challenge him?
Watching Nichi Vendola perform in front of thousands of supporters, it strikes me that he and Silvio Berlusconi are a bit alike. They are both charismatic speakers with big personalities. They are the rock stars of Italian politics. And they are both short.
But that's it. In all other ways, they are opposites. Mr Vendola, the left-wing, openly gay governor of the southern region of Puglia, is campaigning to become Prime Minister, whereas Mr Berlusconi, the man who has dominated Italian politics for 15 years, is struggling to remain in the job.
Mr Berlusconi used to be admired for his energy, optimism and business acumen. Even his gaffes were tolerated. No longer.
Many believed the Prime Minister was targeting Mr Vendola when he joked on television: "It's better to love beautiful women than to be gay."
Mr Vendola immediately retaliated with a YouTube statement. "The time for jokes is over," he said. "Your jokes can't amuse a country that's exhausted, impoverished, scared, insecure and abandoned."
Mr Vendola, who is based in Bari, the capital of Puglia, campaigns tirelessly via the internet. If Mr Berlusconi controls the media, Mr Vendola's team explains, then they will use the web.
Polls suggest he is the favourite candidate among centre-left voters, and elections could be as early as next spring, two years before the end of the current term.
Does Mr Vendola have ambitions to take over as leader of Italy?
"Absolutely, yes," he tells me without hesitation.
"I have to fight this battle. This battle may not be entirely what I chose for my life, but sometimes we do not get to choose, sometimes the script is already written for us."
He speaks with a lisp, plays constantly with his mobile phone and is hovered over by staff and security. As a former anti-mafia campaigner he needs special protection.
Some of his supporters have likened Mr Vendola to the US President Barack Obama, and hope to see him swept to power on a similar wave of hope and support.
However, he downplays the parallels between them:
"We are not comparable. He is the most powerful man in the world and I am the governor of a region with four million inhabitants.
"Obviously I am very pleased and flattered, but I have a sense of proportion."
The 52-year-old has been politically active since he was 14, when he joined the Communist Youth Federation. He studied literature at university, where he started to write poetry.
He is also a devout Catholic, and has no problem combining his faith with his sexuality.
"Catholicism is like my homosexuality, like my political beliefs," he says, "All these things are part of my identity."
He became an MP in 1992 and has been governor of Puglia since 2005.
This poor, mainly agricultural region was run by the right until Mr Vendola's win.
In 2009, he became leader of the new Left Ecology Freedom Party, having previously belonged to the Communist Refoundation Party.
Mr Vendola is leaping ahead in the polls, buoyed by divisions in Italy's main opposition, the Democratic Party.
He created national headlines with radical schemes in Puglia to support green energy, young people, women, immigrants, small businesses and arts festivals.
But he has been criticised for how he has managed Puglia's health budget, which runs a deficit, and for his opposition to the privatisation of the water supply system.
Mr Vendola blames the health deficit on the system itself, which means that Puglia still has to pay for the health care of the many Puglians who moved to other parts of Italy, no matter how long ago.
His main local opponent, Rocco Palese, accuses him of "trying to transform Puglia and make it more like Cuba or the Soviet Union under Brezhnev."
Mr Palese is the leader of Berlusconi's People of Freedom Party in Puglia.
"Vendola uses a particular technique in his speeches and in his politics," he says. "He uses emotion. He talks about love, the poor, the unemployed, the value of work."
"And then he does nothing and blames central government when things go wrong. Like the health service," he alleges.
So how does he explain Mr Vendola's popularity in the region?
"He talks about an imaginary Puglia, and plays on people's hopes and dreams. He's like a Pied Piper who leads people towards something that doesn't exist."
Mr Palese says that if Nichi Vendola won a general election, "it would be a curse for Italy".
"Vendola makes an excellent philosopher, but is not capable of managing even a single apartment block," he says.
Mr Vendola denies claims from critics that he still supports the hard left.
"I no longer define myself as a Communist," he says. Communism was a wonderful question but it was also a terrible answer. It was a great dream and a horrible nightmare.
"I would like to keep the dream and the question alive," he adds, "but I have no tolerance for the nightmare. An ideology that produced the gulags must be questioned with a great deal of critical spirit."
"I am different," he claims. "I can say this because I am an authentic person who does not love power. What's important to me is not to lose the consensus of the electorate."
"Today we have a globalisation of oligarchic and financial interests, but no globalisation of human rights and social rights.
"We have to fight for a globalisation of the people."
Related Internet Links
The BBC is not responsible for the content of external sites.