Germany doubles care fund for Holocaust survivors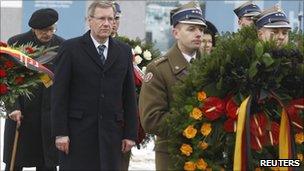 The German government has agreed to double to 110m euros (£93m, $147m) its annual funding for home care for survivors of the Holocaust.
The change takes into account "the sharply increased need for home care", Germany's finance ministry says.
Meanwhile, German President Christian Wulff visited the monument marking the 1943 Warsaw Jewish ghetto uprising.
His visit came exactly 40 years after Chancellor Willy Brandt fell to his knees there in a sign of remorse.
The chancellor's gesture in 1970 was seen as a symbolic attempt to rebuild ties with Eastern Europe as well as a plea for forgiveness.
For three weeks in April 1943, Jewish fighters held out as the Nazis began to liquidate the ghetto, from where 300,000 Jews had already been transported to the Treblinka death camp.
Mr Wulff described how, at the age of 11, he had been deeply affected by Willy Brandt's "great gesture" at the Warsaw memorial.
He and Polish President Bronislaw Komorowski laid wreaths both there and at a monument to the 1944 failed Warsaw uprising in which more than 200,000 people died.
The money paid by the German government to Holocaust survivors is distributed to 32 countries by the New York-based Conference on Jewish Material Claims Against Germany.
"Germany has been exemplary in facing its past, and the government has demonstrated its commitment to alleviating the plight of elderly victims who need the care that these funds will provide," the organisation said in a statement.
Once the increase in German funding is ratified by parliament, the money will go towards in-home nursing as well as help with eating, dressing and bathing.
Last month 17 people, including six who worked for the Claims Conference, were charged with the theft of $42m of German funding between 2000 and 2009.
The group detected the fraud itself and alerted the FBI.
Related Internet Links
The BBC is not responsible for the content of external sites.