Spanish airport row: Public backs military response
By Sarah Rainsford
BBC News, Madrid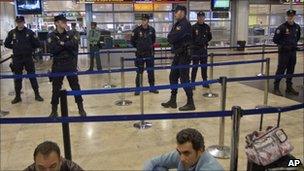 These are extraordinary times in Spain. For the first time since the advent of democracy, the government has declared a state of alert.
A power usually reserved for the aftermath of natural disasters, accidents or epidemics, it is two steps below martial law, constitutionally.
But in a country that only left authoritarian rule behind three decades ago, that power has been evoked now to resolve a labour dispute.
Royal Decree 1673/2010 came into force on 4 December in response to a mass walk-out by air traffic controllers. It placed them under military command for 15 days with a prison sentence for disobedience under Spain's military penal code.
Citing a violation of the right to free movement - article 19 of the constitution - the government decreed that a state of alert was "vital, to confront the situation and proportionate to its extreme gravity".
Stranded at airports across the country on the eve of a long holiday weekend, furious Spaniards echoed their politicians and press in denouncing the unannounced strike as 'blackmail.'
But almost as unusual as the events themselves is the degree of social and political consensus surrounding them. The vast majority appear to agree such extreme action was necessary.
Even the opposition conservative Popular Party has condemned the wildcat strike as "unacceptable" and "reprehensible" and broadly supported the government's move.
At a time of mass unemployment and austerity, high-earning air traffic controllers have become public enemy number one.
Their mutiny was sparked on Friday by the publication of new regulations on working hours: the subject of an angry, year-long dispute with the government.
Buried within another royal decree that also raised tobacco tax and privatised part of the national lottery, was a final clarification that controllers' sick leave, on-call days, training and trade union days would not be deducted from a total of 1,670 hours to be worked each year.
Claiming a violation of their labour rights, the controllers walked out en masse - bringing air transport across the country to a standstill.
Any sympathy they might have hoped for was shattered in the summer when the government revealed that their average salary was over 300,000 euros (£250,000; $400,000) a year.
"Public opinion is very much on the government's side on this. The controllers' behaviour is seen as outrageous. In this economic climate, I think the government's on pretty solid ground," believes historian Charles Powell, of Madrid's San Pablo-CEU University.
"Also, despite the legacy of authoritarianism in Spain, the paradox is that the military and police are popular. The polls show some sense that they are above partisan politics," Professor Powell explains.
Broad public acceptance of the emergency measure was likely helped by a marked absence of dramatic images of armed, military men swarming civilian control towers.
In fact, civilian and military controllers work side by side each day, so from the outside the change is imperceptible.
"Of course it is unprecedented in Spanish history that a military intervention is in the interest of citizens' freedom, but I think that is exactly what has happened," says Juan Botella, Professor of Political Science at the Autonomous University of Barcelona.
He argues that the government's response is seen as proportionate and legal and aimed at tackling a serious crisis in the tourism industry.
Spain is very heavily reliant on the tourist sector for its economy, and "image protection" was a key factor in the government's swift and dramatic response. Many of the stranded passengers were foreign tourists.
Spain's air traffic controllers (ATCs) insist they've been badly misrepresented.
They say they agreed to a 40% pay cut this summer (to 200,000 euros a year, on average) but complain that a shortage of controllers country-wide obliges them to work considerably longer hours than their European counterparts.
One controller-blogger describes "working like cart-horses, available 365 days a year, 24 hours a day".
"There aren't enough ATCs, that's it. We can't cope," Cristina Anton writes on her blog.
Another controller, Daniel Zamit, told the BBC that the trade union had to work hard to persuade people to return to work on Saturday.
"Our problem is social rights, not pay. The hours we work, paternity leave, honeymoon leave, sick leave... we want that back - like everyone else," he explained.
"The workers were willing to go to jail, to lose their jobs - anything. We've been punished so much by the government, and people are tired of it."
That outcome is still possible.
The vast majority of air traffic controllers are now back at work - but more than 400 are facing disciplinary action for their part in the strike, and dozens are already under criminal investigation.
The first will appear in court in Madrid on Thursday.