New deal fails to quell EU food labelling row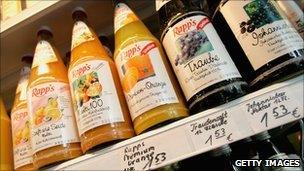 EU ministers have agreed that food producers must clearly label nutrients including fats and sugars and show the country of origin for meat.
But the European Parliament's chief negotiator on food labelling, Renate Sommer MEP, called it a "sloppy" deal.
She predicted more tough talks, saying European consumers "will have to wait a while yet" for clearer labels.
Ministers rejected MEPs' demands for key nutritional information to go on the front of the pack.
"All elements of the nutrition declaration should appear together in the same field of vision but some elements may be repeated on the front of pack," said an EU Council statement on Tuesday, on behalf of the 27 consumer affairs ministers.
They agreed that labelling of the energy value and the quantities of some nutrients, such as fats, carbohydrates, protein, sugars and salt, should become compulsory.
The energy value and amounts of key nutrients would have to be expressed per 100g or per 100ml, but could also be indicated "as a percentage of reference intakes", they said.
"Food business operators could also use additional forms of expression or presentation, as long as certain conditions are met (eg they do not mislead consumers and are supported by evidence of understanding of such forms of expression or presentation by the average consumer)."
Country of origin labelling would be compulsory for pork, lamb and poultry. That rule already applies to beef in the EU.
Wine, beer and spirits would be exempt from the rules on nutritional labelling and indication of ingredients.
Ms Sommer, a German centre-right Christian Democrat MEP, said it was "a sloppy draft which neglected important details".
"The Council, for example, demands labelling for alcopops and imitation foods without defining what they really are. That leads to legal uncertainty."
She said that the ministers had failed to make full use of the experts at their disposal and had batted the legislation back into the parliament's court.
In June MEPs backed plans for more uniform food labelling in the EU, but they rejected "traffic light" colour coding of foods. They opted for Guideline Daily Amounts (GDAs) instead.
But a second reading has to take place in the parliament before the rules become law, and manufacturers would have a grace period of at least three years to update their labels.
Related Internet Links
The BBC is not responsible for the content of external sites.