Pinochet officials tried in absentia in France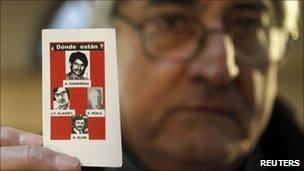 Fourteen officials who served under the military rule of General Augusto Pinochet in Chile are being tried in absentia in a French court.
The charges, which include kidnapping and torture, relate to the disappearance of four French citizens soon after Gen Pinochet came to power.
The 14 accused were mostly senior military officers at the time and include Manuel Contreras, the former head of the Dina secret police.
A verdict is expected later this month.
The four French citizens disappeared between 1973 and 1975. They include Georges Klein, a former counsellor to President Salvador Allende, whom Gen Pinochet ousted in a coup.
Families of the four listened as the judge at the court in Paris read out the names of the 13 Chileans and one Argentine accused of kidnapping, arbitrary detention, torture and barbarous acts.
A lawyer representing the family members, Sophie Thonon, said it was important that those accused were convicted.
"Of course, Chile does not extradite its nationals, but Chile will be their prison - and if they cross a border, they will be arrested," she said.
She expressed regret that the defendants "are not here to listen, repeat, explain or listen to the testimonies of the people they have tortured, of what they have done".
Gen Pinochet was himself implicated in the disappearance of the French nationals, but he died in 2006 without facing trial.
His regime, which lasted from 1973 to 1990, left more than 3,000 people dead or missing.