Swiss leader Micheline Calmy-Rey in record low vote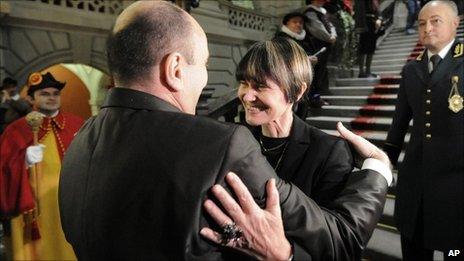 Micheline Calmy-Rey has won the lowest vote for a president in the history of the Swiss parliament after criticism of her work as foreign minister.
Mrs Calmy-Rey was elected to serve in the largely honorific position in 2011. The post is rotated annually, and she held it previously in 2007.
She won 106 out of 189 valid votes in the vote by parliament's two chambers.
MPs accused the Social Democrat of exceeding her authority in handling a diplomatic crisis with Libya.
A parliamentary committee recently found that Mrs Calmy-Rey had failed to consult the cabinet properly over the row with Libya, which turned into a major embarrassment for Switzerland.
The arrest of a son of Libyan leader Muammar Gaddafi in Switzerland in 2008 sparked the crisis, which saw the detention of two Swiss businessmen in Libya.
A line appeared to have been drawn under the row in June, when Mrs Calmy-Rey secured the release of the second businessman, after the first was cleared of Libyan charges.
While also strongly criticising former Swiss President Hans-Rudolf Merz, the parliamentary report accused Mrs Calmy-Rey of lacking "collegiality" in making decisions.
Reacting to Wednesday's vote, she was quoted by la Tribune de Geneve newspaper as saying it "should be forgotten as soon as possible".
"I am the president of all Swiss women and all Swiss men," she said.
In the election which gave her the presidency for 2007, Mrs Calmy-Rey won 147 votes.
Related Internet Links
The BBC is not responsible for the content of external sites.