France 'underestimates true scale of neonaticide'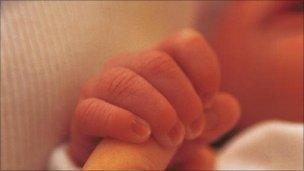 At least five times more French infants are killed by their mothers within 24 hours of birth than official mortality statistics suggest, a study says.
France's Inserm institute researchers identified 27 out of 1.3 million babies born over five years as having been murdered within a day of being born.
They said all countries tended to underestimate such deaths.
They also found "frank mental illness" and denial of pregnancy were infrequent among neonaticidal mothers.
Instead, such mothers showed evidence of low self-esteem, immaturity, dependence, fear of abandonment and inability to control their fertility, the Inserm team said.
The findings by Anne Tursz and Jon Cook were released in the online version of Archives of Disease in Childhood, a journal of the British Medical Association.
"Identifying the profiles of the mothers will make it easier to identify vulnerable women so that appropriate solutions can be proposed," Dr Tursz told AFP news agency.
The issue of neonaticide - killing a baby within a day of its birth - made headlines in France this summer after one mother, Dominique Cottrez, confessed to killing eight of her own newborn babies over 17 years.
Previous calculations of neonaticide were based on death certificates, not police and court records.
The Inserm team surveyed a third of all births in Metropolitan (European) France between 1996 and 2000, examining records of deaths on day of birth.
They calculated that the number of neonaticide cases was 2.1 per 100,000 births, or 5.4 times the official rate of 0.39 cases per 100,000 births.
Psychological and social profiles were drawn up of the mothers, nine of whom went missing.
The average age was 26, a third of them already had at least three children and more than half lived with the father of the newborn they killed.
About two-thirds were employed, and the group as a whole did not differ significantly from other women in terms of social level or occupation.
None were clinically diagnosed as mentally ill. All hid their pregnancies from their families and friends but none were said to be suffering from genuine "pregnancy denial". They gave birth alone and in secret.
They were "women starved of affection", said Dr Tursz.
"The findings suggest that preventative action targeting only the young, the poor, and women living alone, without work or in pregnancy denial, is misguided," the Inserm researcher argued.
Related Internet Links
The BBC is not responsible for the content of external sites.