Bailed-out AIB to pay £33m in bonuses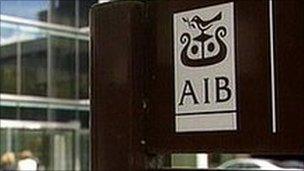 Allied Irish Bank will spend almost 40m euros (£33m) on bonuses for its executives this month, despite being on the brink of another bail out from the Irish government.
According to the Irish Independent, about 2,400 staff will receive cheques for a deferred 2008 bonus on 17 December. Those who are contractually entitled to the payment will pocket an average of €16,700 (£14,000) each.
The bonuses were withheld in 2008 as part of the Irish government's bank guarantee scheme.
They are now being paid out as a result of trader John Foy's successful legal action against the bank, which resulted in it having to pay him a deferred bonus of 161,000 euros (£134,000).
As many as 90 employees in AIB's capital markets division have issued similar legal proceedings in the courts claiming the bonuses were agreed before the economic crash.
Last year staff received 54.9m euros (£45m) in bonuses.
The move is likely to enrage members of the public and the bank's shareholders, who have watched share prices tumble from 23.95 euros (£20) to just 50 cent in the last two years.
AIB has already received 3.5bn euros (£2.9bn) of Irish tax-payers' money as part of a bail out package from the government and is set to receive a further cash injection from a 10bn euros recapitalisation fund.
Barry O'Leary from the Industrial Development Agency (IDA) in Ireland labelled the pay-out "bizarre".
He said he wished the IDA had that sort of money to repair the country's tarnished reputation on the international scene.
The bonus payout is a significant chunk of the bank's market value these days, with the stock exchange estimating its total value at 540m euros (£45.2m).
The move comes just one day after the Republic's finance minister, Brian Lenihan, said he thought it was unlikely bonuses would be paid out for some time at the banks.
He said until the banks were profitable again and made a "return'' to the taxpayer, he did not think any bonuses would be sanctioned.
Critics of AIB have accused it of being arrogant and in denial throughout the Irish financial crisis.
In July 2008, as the storm clouds were gathering, the bank chose not to conserve capital but instead announced a 10% dividend payout saying its "funding and capital positions are expected to remain robust".
Then finance director John O'Donnell said: "Even in a very, very stressed position, we would not anticipate that our dividend would be threatened or that we would have to go to our shareholders."
By October, AIB'S chief executive Eugene Sheehy went even further saying he would "rather die than raise equity".
Related Internet Links
The BBC is not responsible for the content of external sites.