Kosovo election official shot dead before weekend vote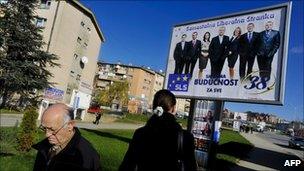 An polling official has been shot dead in Kosovo, days before its first elections since independence in 2008.
Police said the victim was attacked in a car in the mainly Serb northern town of Leposavic by "unknown assailants".
He was identified as Sefko Salkovic, a local Bosnian Muslim leader and a member of the electoral commission involved in organising Sunday's vote.
Serbs in northern Kosovo reject independence and Belgrade has advised them not to take part in the vote.
The area is also home to a minority of around 30,000 people of Bosnian origin who recognise Kosovo's independence.
Although it was not clear that Wednesday's shooting was linked to the general election, the government in Pristina issued a statement saying that "such criminal acts cannot affect the success of the December 12 elections in any way".
The second man in the car was seriously wounded in the shooting.
EU officials condemned the violence and called for calm "in this potentially sensitive period".