Serbia defends China-led boycott of Nobel ceremony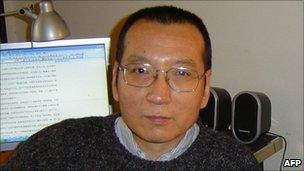 Serbia has defended its decision to join a Beijing-led boycott of Friday's Nobel Peace Prize ceremony for Chinese dissident Liu Xiaobo.
Serbian Foreign Minister Vuk Jeremic said China was a "proven friend". He added that the decision was "not easy at all, and far from ideal".
Earlier the European Commission deplored the decision, urging Serbia to "fully share the values of the EU".
Serbia's bid for EU membership has made progress in the past year.
China has condemned the Nobel committee's decision to award the prize to Mr Liu, 54, who was a key leader in the Tiananmen Square democracy protests in 1989.
The Nobel Foundation praised Mr Liu for his "long and non-violent struggle".
Serbia is among 18 countries that have joined China in boycotting the ceremony in Oslo. Russia, a staunch ally of Serbia, is also in the group.
Mr Jeremic told Serbian B92 television that the decision "perhaps does not leave the best taste in the mouth, but we had to take into account our relations with key political players in the world".
"China is Serbia's proven friend, and has offered unconditional support in our difficult moments, which meant a great deal," he added.
China's ambassador to Belgrade, Wei Jinghua, said Beijing "highly appreciates" Serbia's decision. Quoted by B92, he said "Serbian people know that awarding the Nobel Peace Prize to the Chinese dissident has nothing to do with peace".
Serbia has significant business ties with China, which is involved in Serbian infrastructure projects including power plants.
China, a permanent member of the UN Security Council, has also backed Serbia's stance on Kosovo, refusing to recognise the secessionist territory. China's embassy was bombed during Nato air strikes on Belgrade in 1999 - and the US later apologised, calling it a mistake.
In 2008 the Nobel Peace Prize went to Finland's ex-President Martti Ahtisaari, who was the UN special envoy to Kosovo.
In a thinly veiled criticism, Mr Jeremic recalled that the award had gone to "Martti Ahtisaari, who... deserves many things other than the world peace prize".
Related Internet Links
The BBC is not responsible for the content of external sites.