Zapatero defends handling of air traffic control strike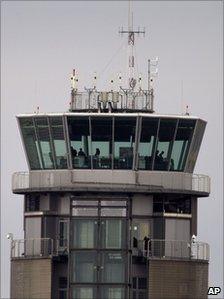 Spanish Prime Minister Jose Luis Rodriguez Zapatero has defended his use of the military to break a strike by air traffic controllers.
Emergency measures had been "essential to correct a disastrous situation", the Socialist PM told parliament.
He criticised the "stubborn attitude" of the strikers, who were protesting over their hours and benefits.
Legal action against the controllers ran into opposition on Thursday when 12 of them rejected a summons.
The 12 controllers - the first to face questioning - refused to testify before prosecutors, arguing that the investigation should be handled by a military court following the government's use of emergency measures.
The emergency took effect on Saturday and is to last at least 15 days.
Facing the threat of prison sentences, strikers began returning to work after the emergency was declared.
Hundreds of flights had been cancelled during the strike, which began on Friday afternoon at the beginning of one of Spain's busiest holiday weekends and affected hundreds of thousands of travellers.
"No-one, neither individually nor collectively, can take the citizens as a whole as hostages to their claims," Mr Zapatero said.
"The government will not hesitate to use, without ignoring the requirements of proportionality, all the instruments of rule of law to end situations such as the one we experienced at the weekend."
He said that 190 air force officials had been deployed to Spain's air traffic control towers and more than 2,000 police dispatched to airports to boost security for passengers.
"It is no exaggeration to say that the situation was in open conflict with the rule of law and involved a constitutional affront to public order," Mr Zapatero said.
"As such, it had to be dealt with."
Related Internet Links
The BBC is not responsible for the content of external sites.