French group signs hydroelectric deals with Russia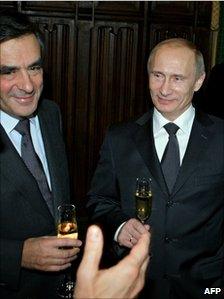 French group Alstom has signed hydroelectric deals with Russia during a visit to Moscow by Prime Minister Francois Fillon.
About 10 agreements were signed with Russian companies giving access to the strategic energy market.
Alstom is said to already occupy 25% of the world hydroelectric market.
There had been speculation the Kremlin would announce the resumption of a motorway project involving French firm Vinci but no announcement was made.
Mr Medvedev froze the plan in August following protests by ecologists angered that the route would take it through the historic Khimki forest outside Moscow.
Alstom CEO Patrick Kron told reporters that the Russian deals would earn the group "several hundred million euros" in the next few years.
He noted that Russia was the last of the four Bric markets - the others are Brazil, India and China - Alstom had yet to penetrate.
The French prime minister also met President Dmitry Medvedev and his Russian counterpart, Vladimir Putin.
Related Internet Links
The BBC is not responsible for the content of external sites.