Yerevan mayor 'hits aide' over Placido Domingo concert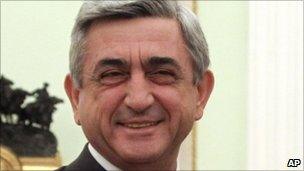 The mayor of Armenia's capital Yerevan has resigned after allegations that he attacked a presidential aide over a seat at a Placido Domingo concert.
Local media reported that mayor Gagik Beglarian assaulted the aide because he had asked the mayor's wife to give up her seat next to President Serge Sarkisian.
Yerevan city hall confirmed Mr Beglarian's resignation.
A presidential spokesman called the mayor's behaviour "unacceptable".
It was not clear if the assault took place during or after the Spanish tenor's performance in Yerevan on Friday.
Local media reported that Mr Beglarian's wife, who sat next to Mr Sarkisian, was asked by a member of the presidential protocol team to change seats.
This annoyed Mr Beglarian so much that he punched the aide in the face, say reports.
Mr Beglarian is a member of the governing Republican Party.