UN voices concern over EU migration policy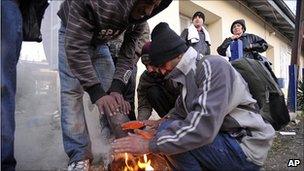 EU policies aimed at tackling illegal migration could be blocking asylum seekers whose lives are at risk, the UN refugee agency has warned.
The UNHCR says tighter controls have led to a big drop in arrivals to the EU by sea - mainly in Greece, Italy, Cyprus and Malta.
But it says the problem has just shifted elsewhere, pointing to a steep rise in arrivals overland in Greece.
The EU has so far made no public response to the UNHCR's criticism.
"Italy, Greece, Cyprus and Malta have all seen drastic reductions in arrivals by sea over the past year or two, almost certainly a result of tighter border controls, joint patrols and push-backs at sea," said Andrej Mahecic, a spokesman for the United Nations High Commissioner for Refugees (UNHCR).
The agency says 8,800 people arrived by sea in those four countries in the first 10 months of 2010.
This represents a significant drop compared with the same period of last year, when some 32,000 tried to enter the EU by sea.
But Mr Mahecic warned that the "stemming of sea arrivals is not solving the problem but shifting it elsewhere".
He pointed that there had been a sharp rise in overland arrivals in the north-eastern Evros region of Greece via Turkey in 2010. Nearly 40,000 people have already tried to enter the region this year, compared with only about 8,000 in the same period in 2009.
"Our concern is that in its effort to stem illegal migration, Europe should not forget that among those seeking to enter the EU are people who need international protection and are at risk of their lives," Mr Mahecic said.
He added that some genuine asylum seekers had a "negligible chance" of having their case properly assessed by the Greek authorities and were forced live in extremely difficult conditions.
Related Internet Links
The BBC is not responsible for the content of external sites.