German 'gentleman robbers' killed by Karlsruhe police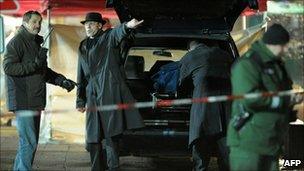 German police say a married pair of bank robbers shot dead on Friday may be the same couple who carried out dozens of hold-ups over the past 15 years.
The pair were known as the "gentlemen robbers" because they were so polite to their victims.
Police dispute the nickname, pointing out a policewoman was severely injured during the shoot-out.
Czech identity papers were found on the bodies, identifying them as a married couple, a man, 40, and a woman, 38.
DNA tests will be carried out to establish whether they are the "gentleman robbers" who stole an estimated two million euros (£1.67m) in 21 bank hold-ups since 1995.
They acquired the nickname because of the way they often apologised to their victims for the inconvenience their actions caused.
The robbers threatened five bank employees with handguns, forcing them to hand over tens of thousands of euros.
They then left the bank. But an employee had set off a silent alarm, summoning police, who confronted them in a nearby shopping street.
The robbers drew their weapons, leading to a shoot-out, the police statement said.
A policewoman was shot in the thigh and seriously hurt but her injuries were not life-threatening. Her colleague returned fire, shooting the man in the chest.
The woman robber was killed outright, while her husband died a few minutes later.
Police found the money from the robbery on his body.
Related Internet Links
The BBC is not responsible for the content of external sites.