Spain gunman kills four in Girona province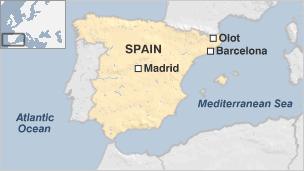 A man armed with a rifle has killed four people in a rampage in Girona province, north-east Spain, police say.
The gunman walked into a bar in the town of Olot, 120km (70 miles) north of Barcelona, and shot two men - reportedly a father and son who were both construction workers.
Minutes later, he went to a bank and killed two staff, police said.
A 57-year-old Spaniard was later arrested over the killings. Police have not commented on possible motives.
But Olot mayor Lluis Sacrest told local radio that financial problems appeared to have been behind the killings.
Catalan police said in a statement that the alarm was raised at about 0900 GMT, when local officers were alerted to the death of two people in a bar.
"Half an hour later they received information that a man responding to the same physical description entered a banking establishment and killed two employees," the statement said.
Soon after, a man identified only as Pedro PP was arrested.