Ukraine ex-PM Yulia Tymoshenko faces investigation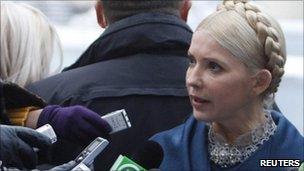 Investigators have launched an inquiry into former Ukrainian Prime Minister Yulia Tymoshenko, accusing her of misusing public funds.
Mrs Tymoshenko, now the main opposition leader, has been told not to leave the capital, Kiev.
She says she is accused of illegally diverting money meant for environmental projects into pension funds.
Mrs Tymoshenko, who lost power in March in a no-confidence vote, said the inquiry was politically motivated.
"The authorities continue to systematically terrorise the opposition without any respect for the law or constitution," she said in a statement on her website.
Yury Boichenko, a spokesman for the prosecutor's office, told AFP news agency that an inquiry had begun, but he did not go into details.
Reports say the accusations are related to an audit of her cabinet's affairs ordered by the new government, which is allied to President Viktor Yanukovych, her long-time political rival.
The auditors' report, published in October, alleged misuse of funds from the selling of carbon emission rights under the Kyoto protocol.
But Mrs Tymoshenko insisted that funds from the sales of Kyoto quotas, totalling 320m euros (£270m; $425m), had not been spent and were still at the disposal of the environment ministry.
"An expert needs one minute to see that there was no transfer of environmental funds," she said.
"Pensions were paid, but not with environmental funds."
She said investigators had ordered her to return for more questioning next Monday.
On Tuesday, former Environment Minister Georgy Filipchuk was detained over the investigation into Kyoto funds - the third minister from Mrs Tymoshenko's government to be accused of abuse of power.