Euro MPs back direct democracy initiative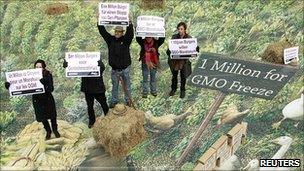 Euro MPs have approved the rules for the European Citizens' Initiative (ECI) - a tool for Europeans to initiate EU laws by collecting at least a million signatures of support.
The European Commission - the EU's law-making civil service - will decide whether a valid ECI merits a new law.
The new tool is more wide-ranging than the petition system that EU citizens currently use to lobby Brussels.
Petitions are mostly on local issues, but ECIs will have to be pan-European.
MEPs amended the Commission's blueprint for the ECI. It is now agreed that the admissibility check will be carried out at the outset, rather than after 300,000 signatures have been collected, which was what the Commission had suggested initially.
The Council, the grouping of the 27 member states' governments, is expected to approve the new rules this month, and the citizens' initiative is likely to be launched officially in January 2012.
A panel of people from at least seven member states - a quarter of the total - will be able to register an initiative with the Commission.
Verification of signatures will be the states' responsibility, and most will require proof of identity such as an ID card for each signature, a European Parliament statement said.
The ECI, one of the Lisbon Treaty innovations, is aimed at bringing EU institutions closer to the people and addressing what critics describe as the EU's "democratic deficit".
Even before the rules were adopted the environmental group Greenpeace announced it had collected a million signatures against the planting of genetically modified crops (GMOs). That petition has not yet been examined by the Commission.
Related Internet Links
The BBC is not responsible for the content of external sites.