Ireland bail-out: parliament backs 85bn euros plan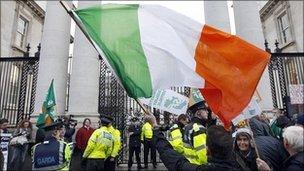 The Irish parliament has voted in favour of the financial bail-out package offered by the European Union and the International Monetary Fund.
The funding, worth up to 85bn euros (£72bn), was passed by 81 votes to 75.
Meanwhile, the House of Commons has endorsed the UK government's plans to contribute £3.75bn to the rescue package. Nine MPs opposed the plan.
Ireland has sought the bail-out due to its huge fiscal deficit and concerns over its banks' balance sheets.
Ireland's main governing party, Fianna Fail, had urged acceptance of the deal, arguing that its approval would send a "strong signal" even if it was not legally necessary.
However, opposition parties including Fine Gael, Labour and Sinn Fein voted against the deal.
Fine Gael finance spokesman Michael Noonan described it as a "downright obscenity".
He said the interest rate of 5.8% was not indicative of solidarity and called for it to be renegotiated.
The details of the British loan to Ireland were finalised between the two governments on Wednesday morning.
The Chancellor George Osborne told the House of Commons that it was "overwhelmingly" in Britain's national interest that Ireland had a strong economy and a stable banking system.
He said that 5% of British exports were sold in Ireland.
The British bilateral loan is to be paid back at an interest rate of around 5.9% with the UK eventually set to make more than £400m in fees and interest payments.
Related Internet Links
The BBC is not responsible for the content of external sites.