Turkey tries army officers over Sledgehammer 'plot'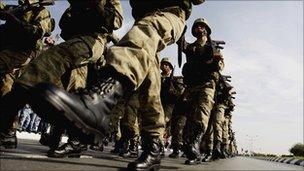 A trial of nearly 200 retired and serving military officers has begun near Istanbul.
They face charges of plotting to bring down the government of the Islamically rooted Justice and Development Party seven years ago.
The alleged conspiracy, one of several being investigated, has divided opinion in Turkey.
The armed forces say that the plot was no more than a seminar to discuss hypothetical scenarios.
Twenty-eight serving generals or officers of equivalent rank are among those in the dock, and the trial could go on for months.
Thousands of documents confiscated from military bases will be used by prosecutors in this trial to try to prove their charge that the plan drafted in 2003, code-named Sledgehammer, was a real plot to bring down the government.
Some of the documents - which have been published by Turkish newspapers - describe dramatic schemes to plant bombs in mosques and provoke clashes with the Greek air force, allegedly to justify a military takeover.
But this is only the latest of a series of alleged anti-government conspiracies so confusing that few people are able to make sense of them.
One, known as Ergenekon, has already put more then 400 people on trial, in hearings that have lasted for over two years.
People here tend to judge the truth of these conspiracies according to whether they support or mistrust the governing party, which has been in power for eight years and is on track to win a third election victory next year.
It has long been at odds with the military and the judiciary, but now appears to be winning the upper hand, following September's referendum that approved its proposals for constitutional and judicial reform.
One of the judges who was supposed to hear the Sledgehammer case was removed by the recently restructured judicial supervisory board earlier this week.
And while the once-powerful armed forces commanders have at times complained about their colleagues being put on trial, the fact that they have done nothing else has convinced many Turks that the era of military intervention in politics is now over.
Related Internet Links
The BBC is not responsible for the content of external sites.