European court rules woman's abortion right violated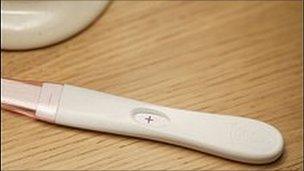 The European Court of Human Rights has ruled the Irish Republic violated the rights of a woman with cancer who travelled to the UK for an abortion.
The woman, who was in remission for cancer and unaware of her pregnancy, argued her health was put at risk.
While abortion in the Republic is technically allowed if a woman's life is at risk, the woman's lawyers argued this was not the case in reality.
Thursday's ruling in Strasbourg could require a change to Irish law.
The woman was awarded 15,000 euros in damages. The court found that the rights of two other women who had taken cases had not been violated.
The court ruled the woman with cancer's right to respect for her private life was breached by the Republic's failure to implement the existing constitutional right to a lawful abortion.
The court found that the only non-judicial way to determine the risk to a woman's life is the ordinary medical consultation between her and her doctor, but that this was ineffective.
It also found that the courts in Ireland were not appropriate for the primary determination of whether a woman qualified for an abortion.
The Strasbourg judgment also stated it was unclear how Irish courts would enforce a mandatory order for a doctor to carry out an abortion, given the lack of information given to the ECHR by the Irish government regarding lawful abortions carried out in Ireland.
The court also pointed out there had been no explanation as to why the existing constitutional right to an abortion had not been implemented to date.
As the rulings of the court are binding, it is now likely the Irish government will have to implement a woman's right to an abortion if her life is at risk.
It is understood that the judgment is now being considered by the Department of Health and the attorney general.