Russia PM Vladimir Putin defends tough police action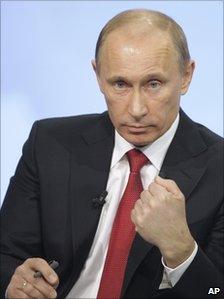 Russian PM Vladimir Putin has defended tough measures by police to suppress public disorder and combat "extremism".
His comments came in a four-and-a-half-hour phone-in, a day after police arrested hundreds of people during nationalist protests in several cities.
He said ethnic minorities, including people from the Caucasus, should not be stereotyped.
Tension has grown since a football fan was shot in a confrontation with North Caucasians last week.
All Russian citizens, he said in the live state TV and radio interview, no matter what faith or nationality, must realise they are children of one country.
Mr Putin also denied that a Soviet practice of killing traitors abroad was continuing, but said that the "swine" who had betrayed 10 Russian sleeper spies in the US in the summer would find it hard to live with himself.
The former president failed to answer a question about whether he would stand again for the office in 2012, saying elections were "still far away".
Asked who ran the country while he and President Dmitry Medvedev were asleep, he joked: "We take it in turns to sleep. Everything is under control."
Mr Putin said it was necessary to suppress manifestations of extremism from all quarters, and society should understand there must be order.
"The liberal community must understand the need for maintaining order," he said.
"The government exists to protect the majority's interests."
He continued by defending the police.
"We mustn't paint them all in black and bring them down, or otherwise the liberal intellectuals will be the ones who have to shave their thin beards off, put helmets on and go out on the square to fight the radicals," he said.
Mr Putin's words can be seen as a response to liberals who criticise the authorities for using anti-extremism legislation to break up their own protests.
His appearance comes amid tensions over the shooting of Moscow Spartak fan Yegor Sviridov.
The death triggered violence last Saturday by the walls of the Kremlin, as ultranationalists gathered to protest.
The crowd made fascist salutes, chanted "Russia for the Russians" and went on the rampage. On Wednesday police detained hundreds of people and confiscated weapons, fearing more unrest.
Related Internet Links
The BBC is not responsible for the content of external sites.