Anti-Berlusconi tweets flood Twitter feed at EU summit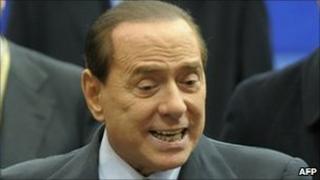 An attempt to show live tweets on giant screens at the venue of an EU summit in Brussels has been hijacked by critics of Italian PM Silvio Berlusconi.
One tweet called him a "mafioso". Another said Mr Berlusconi had paid for "for sex, for votes".
The "tweet wall" was shown on two plasma screens in the main hall of the building, as 27 European leaders met to discuss the eurozone debt crisis.
The test was stopped after two hours. Organisers say its main goal was met.
The tweet wall was programmed to republish all postings with the hashtag "#EUCO", on the first day of the summit on Thursday.
A flood of insulting messages were flashed, including: "Berlusconi is a mafioso, but he makes laws for be not judged [sic]".
Another Twitter user posted old quotes from the Italian prime minister aimed at embarrassing him, including: "Mussolini never killed anyone. Mussolini used to send people on holiday in internal exile."
The EU official who organised the experiment told the BBC its aim had been to test ways of promoting the European Council's presence on Twitter and this had been achieved.
She said her team would experiment with other tools in the future and was "learning by doing".