Report into Anglo Irish Bank bosses due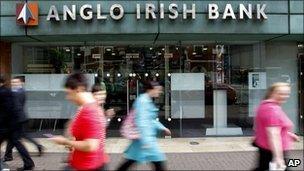 The findings of a report into the former chairman and former chief executive of Anglo Irish Bank will be published later on Monday.
The investigation was carried out by the former Irish Comptroller and Auditor General John Purcell.
It examined the roles played by ex-chairman Sean Fitzpatrick and former chief David Drumm in the events leading up to the nationalisation of Anglo.
The probe is one of several into various activities at the bank.
It also looked at the roles of Anglo's former finance director Willie McAteer and Peter Fitzpatrick, the former finance director of Irish Life Permanent, which supported the bank with 7bn euros (£5.9bn) in short-term deposits in 2008.
The transactions made Anglo's accounts look much healthier than they were, masking the true extent of deposits withdrawn from the bank following the collapse of Lehman Brothers.
Mr Purcell's findings are also expected to include information on the secret borrowings by Sean Fitzpatrick and loans given to 10 investors to buy shares in Anglo which had been indirectly held by Sean Quinn.
The report is expected to establish whether there is a prima facie case against any of the four men which should be sent forward to a disciplinary committee.
Mr Purcell was appointed special investigator by the Chartered Accountants Regulatory Board in 2009.