How Helsinki airport deals with snow and ice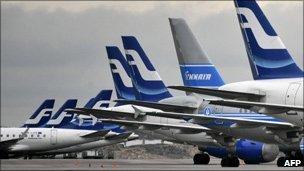 Helsinki airport had 188cm (6ft) of snow last winter but the last time it was forced to close because of the weather was in 2003.
That closure lasted for half an hour.
This winter planes have been taking off and landing as normal despite an unusually heavy snowfall in December - 65cm (more than two feet).
It looks as though there will be another snowy winter, like last year's, says Annika Kala, a spokesperson for the airport. But she says she's relaxed because the airport is "well prepared".
The preparation consists of good equipment, extra winter staff, and a choice of three runways.
While one runway is being cleared of snow or ice, the other two are open for business.
In exceptional circumstances, two runways may be closed. It takes a rare combination of heavy snow and high wind to close all three - as happened, briefly, seven years ago.
What about the equipment?
"We have 250 vehicles of different kinds," says Ms Kala.
"We have sweepers, snow ploughs, vehicles that blow snow from the runways, and friction testers that check the surface is fit for use."
The snow is removed to a special storage area within the airport perimeter. When that fills up, it is taken to other facilities outside.
Last winter 7,000 truckloads were carted off the runways, apron and taxi-ing areas.
Temperatures in Helsinki can drop to -25C (-13F) - but Ms Kala explains that a good hard frost is much easier to deal with than a temperature of zero or -1C.
"When it's zero degrees, it's moist and there will be ice," she says.
"We have to take the ice away. We first use metal brushes, then, if necessary, we use chemicals."
The extra seasonal staff, about 50 of them, operate this equipment.
But there is also a dedicated "snow desk" that keeps in contact with the airlines, the ground handling team and air traffic control.
"They plan how much staff we need, how many vehicles - and they follow weather forecasts hour by hour," Ms Kala says.
She acknowledges that there is a big difference between Helsinki, which has a total of 600 landings and take-offs per day on its three runways, and Heathrow which has twice as many - on two runways - and five times as many passengers to deal with.
Running a big airport like Heathrow - which is privately owned by BAA - would be a bigger operation than running state-owned Helsinki airport.
But the principles for dealing with snow and ice, Ms Kala suggests, are probably the same.
Related Internet Links
The BBC is not responsible for the content of external sites.