Belarus jails 600 activists over election unrest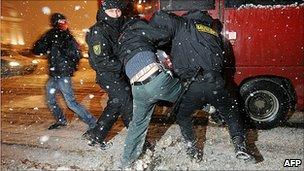 The Belarus authorities have jailed about 600 demonstrators for up to two weeks in a crackdown on protests against the re-election of President Alexander Lukashenko.
Some detainees may face longer terms - as much as 15 years - if found guilty of taking part in "mass disturbances".
At least seven presidential candidates were among those detained. Some of them were reportedly also beaten by police.
Observers called the poll "flawed" and the US and EU condemned the crackdown.
The Russian Union of Journalists has demanded the immediate release of journalists arrested while covering the protests in the capital Minsk. They have urged the Kremlin to put pressure on Belarus to free their colleagues.
A detained Russian press photographer, Alexander Astafyev, has gone on hunger strike, RIA Novosti news agency reports.
A correspondent for the AFP news agency was held for 17 hours on Monday before being released without explanation.
Smaller opposition demonstrations were also broken up by police on Monday.
The Minsk police chief, Leonid Farmagei, was quoted as saying those detained during the opposition rallies on Sunday would be held for up to 15 days.
The detainees are being investigated over the "mass disturbances" and could face longer prison terms, the maximum being 15 years.
President Lukashenko, in power since 1994, was re-elected for a fourth term with almost 80% of the vote. He accused opposition supporters of "banditry".
Police dispersed at least 10,000 anti-Lukashenko demonstrators in Minsk on Sunday night, officials said.
Some demonstrators tried to storm a government building, but were pushed back by riot police. Dozens of people in the crowd were injured in clashes after being beaten with batons, according to eyewitnesses.
Mr Lukashenko dismissed the criticism of the election, saying he could not imagine what else he could have done to make the elections more democratic.