Hungary to create new media watchdog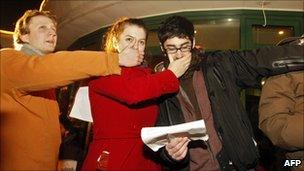 Hungary's parliament has passed a controversial law to create a new authority with powers to monitor and impose fines on the media.
The National Media and Communications Authority (NMHH) will keep watch on private and public media outlets.
Two independent watchdogs - the OSCE and US-based Freedom House - have voiced concern, saying the law tightens government control over the media.
Hundreds of students demonstrated against the law in Budapest on Monday.
Prime Minister Viktor Orban's centre-right Fidesz party has a two-thirds majority in parliament and the law was adopted with 256 votes and 87 against.
Green LMP party deputies, opposed to the law, wore sticky tape over their mouths during the vote, the Hungarian news agency MTI said.
Unbalanced coverage or breaches of the rules on coverage of sex, violence or alcohol are now expected to prompt the imposition of sanctions by the new authority.
The NMHH will be able to impose fines of up to 200m forints (£615,000; $955,000) on TV and radio stations, MTI reported.
Newspapers could face fines of up to 25m forints and news websites 10m forints.
A media freedom representative for the Organisation for Security and Co-operation in Europe (OSCE), Dunja Mijatovic, said the law "could lead to all broadcasting being subordinated to political decisions".
Freedom House also warned that it would be "a major setback for press freedom in Hungary". The definition of "violations" is "very broad", it added.
The NMHH is dominated by Fidesz appointees, Reuters news agency reports.
The government argues that the new law is long overdue, saying Hungary's legislation needs to catch up with rapid developments in media technology and content.