Russia-India arms deal backed by historic ties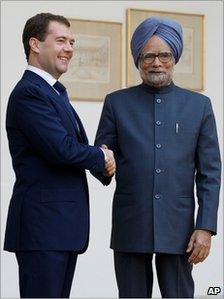 Russian President Dmitry Medvedev has signed a contract for the joint development of a new fighter aircraft during a visit to India.
President Medvedev met Indian Prime Minister Manmohan Singh in Delhi, where they agreed on the joint development of a so-called joint fifth-generation fighter plane.
India and Russia were allies during the Cold War, and Delhi has traditionally bought many of its arms from Moscow.
However, over the last 10 years India has been diversifying its weapons suppliers and, despite the new contract, Russia faces stiff competition for Indian arms contracts from Europe and the US.
President Medvedev recognised this in an interview in the Times of India on the eve of his visit.
"There is a reason that Western manufacturers of arms and military equipment are also interested in co-operating with India. We accept this calmly and pragmatically.
"We are ready to compete. But it's important that all contracts are transparent and follow the rules," Mr Medvedev was quoted as saying.
Experts think that Mr Medvedev's calmness is underpinned by the countries' historic ties.
Viktor Mizin, of the Moscow State Institute for International Relations, said that the relationship was originally based on mutual geopolitical interests.
"When the Soviet Union had problems with China, then India would balance China. It's well known that India has also had an uneasy relationship with China," he said.
An embargo on the supply of Indian nuclear materials gave the relationship extra stimulus, and indirectly influenced the trade in arms.
"Russia had no competitors. India needed relatively up-to-date military hardware, and only Russia could supply it," said Alexander Goltz, military specialist and deputy editor of the online newspaper Daily Journal.
But according to Mr Goltz, the appearance of Western suitors in India's arms market has highlighted the weaknesses in Russia's defence industry.
"The current situation has changed. We are entering a highly competitive environment," he said.
Russia enters this new competitive market with a mixed bag of success and failure.
Russo-Indian co-operation hit a stumbling block over the contract to upgrade the Admiral Gorshkov, an aircraft carrier bought by India and left for modernisation in Russia.
Under the Indian flag, the carrier will be called Vikramaditya.
According to the original contract signed in 2004, the repairs were to cost $1.5bn, but later rose to $2.3bn.
Delivery dates have been put back by almost a year until the end of 2012.
In India, many have started to doubt the merits of the deal, but cancelling is out of the question, bearing in mind the big sums already invested.
Experts have also highlighted problems with other contracts, in particular with after-sales service and spare parts.
Nandon Unikrishnnan, director of the Eurasia Research Fund Observer, told the BBC that India wants to reassess its arms-buying process so as to include delivery and service in a single package.
"It would be easier for us to sign a single contract for the lifetime of a weapon such as a tank, so that its service and everything else is included in the price," he said.
While still buying Russian tanks and aircraft, India continues to actively seek an alternative to Russian weapons.
It is to purchase C-17 and C-130 transport planes from the US.
An ongoing process to bid for the supply of 126 fighter jets to the Indian Air Force ends in 2011.
As well as Russian MiG-35s, American F-16 and F-18s, the Eurofighter and the Swedish Gripen are also tendering for the contract.
Russia is faced with a serious challenge, but does not intend give up its position in the market.
President Medvedev's signing of the new fifth-generation fighter plane contract is testament to this. Talks over the aircraft have been going on since 2005.
Initially, Russia hoped to sign a contract to deliver its T-50 fighter plane to India, but in the end India insisted on the joint development of a new aircraft, based on the T-50 but with modifications for the Indian Air Force.
Ilya Kramnik, military analyst for the RIA Novosti news agency, says a jointly developed aircraft will differ significantly from the Russian T-50.
"India wants it to have a twin-seat cockpit and wants the plane to be much more versatile. India needs the plane to be able to cope with dogfights and strike missions."
This all complicates the project.
According to Alexander Goltz, the joint development of this aircraft is just as important for Russia.
"There are always problems with mass production of a component, whatever it is. Not to mention the fact that we need avionics that Russia cannot produce but India can," he added.
Russia still has other contracts with India, in particular the modernisation of weapons already delivered. By the best estimates, 80% of India's army is equipped with Russian hardware.
Experts are confident that more arms deals will be signed in the future, but when it comes to the supply of new weapons, specialists believe that the onus will be on joint development.