European airports tackle snow backlog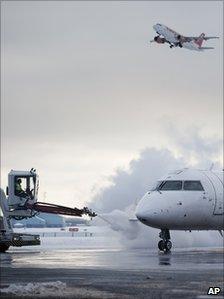 European airports have started to tackle the backlog of thousands of passengers stranded when ice and snow paralysed major air hubs.
Airports say schedules are slowly returning to normal, but cancellations and delays are likely.
Severe wintry weather has grounded flights since the weekend, trapping those travelling over Christmas.
Airport operators defended their handling of the crisis amid criticism from the European Commission.
Heathrow airport in London and Frankfurt airport both said on Wednesday morning that they were working to return operations to normal.
Heathrow's operator BAA said that both runways were now open.
It said it planned to run two-thirds of scheduled flights but warned: "Airlines are currently operating a significantly reduced schedule while they move diverted aircraft and crew back into position."
British Airways said that in line with a directive from BAA, it would operate only a third of its normal flight schedule at Heathrow until 0600 GMT on Thursday, Reuters reports.
Since Saturday, when 12.7cm (five inches) of snow fell in just one hour, Heathrow has cancelled hundreds of flights.
Officials at Frankfurt airport said early Wednesday that 70 flights were cancelled out of a planned daily total of about 1,300, compared with 500 cancellations on Tuesday.
Airport spokesman Thomas Uber said there was a backlog of about 3,500 passengers, including about 600 who spent the night on emergency cots.
He said the airport was getting back to normal, but operations also depended on developments at other European airports.
"It will take a while to catch up," he added.
Dublin airport also reopened early on Wednesday. Shannon, Cork, Knock and both Belfast airports were operating normally, the Irish Times reported.
Brussels airport said that it had been informed by handling agents that enough de-icing liquid was now available to return to "normal winter operations".
Eurostar said it would resume a regular check-in service for its high-speed trains between London and Brussels and Paris.
However, it asked passengers not to show up until an hour before departure "to avoid congestion and an unnecessary wait".
Eurostar said nine of its 52 trains would be cancelled on Wednesday, but the affected passengers would be reallocated seats on "one of the next available trains".
On Tuesday, thousands of people were queuing in freezing temperatures at London St Pancras station, waiting to be checked-in for a restricted service.
German rail operator Deutsche Bahn said it would change its timetable from Wednesday to 31 December and add extra trains to cope with a surge of demand due to air and road travel disruptions.
The European Commission said it was "extremely concerned" about the level of disruption caused by the severe snow, saying that it was "unacceptable and... should not happen again".
European Union transport chief Siim Kallas said on Tuesday he was considering forcing airports to provide a minimum level of infrastructure support during severe weather.
"Better preparedness in line with what is done in northern Europe is not an optional extra, it must be planned for and with the necessary investment," he said.
The chief executive of airline BMI, Wolfgang Prock-Schauer, said what had happened at Heathrow was "completely unacceptable".
"BAA was not prepared. It did not have enough de-icing fluid," he told The Times newspaper.
A spokesman for BAA, which is owned by Spain's Ferrovial, denied there had been a problem with de-icing fluid at the airport and said lessons would be learnt.
UK Prime Minister David Cameron said he was "frustrated" it was taking so long to get Heathrow fully operational again.
"If it's understandable that Heathrow had to close briefly, I'm frustrated on behalf of all those affected that it's taking so long for the situation to improve," he said.
Related Internet Links
The BBC is not responsible for the content of external sites.