Pope to deliver Thought For The Day on Christmas Eve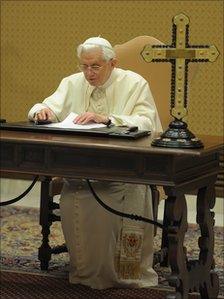 Pope Benedict has recorded a Christmas message especially for the UK, to be broadcast by the BBC on Christmas Eve.
It will go out as the Thought For The Day on the Today programme on Radio 4.
It is the first time that Pope Benedict has addressed a Christmas message especially for one of the countries he has visited during the year.
The BBC's David Willey says it is the Pope's way of saying thank you for what he regarded as a hugely successful trip to England and Scotland in September.
He speaks of his great fondness for Britain and asks listeners to step back for a moment to consider the meaning of the birth of Jesus Christ, our Vatican correspondent says.
The Pope does not like to perform in front of teleprompters, and he chose to read his radio message in a room next to the cavernous audience hall in the Vatican, where earlier on Wednesday he had welcomed several thousand pilgrims from around the world, he adds.
Negotiations between the BBC and the Vatican went on for many months to enable the recording to take place.
Thought For The Day is broadcast within the Today programme at 0745 from Monday to Saturday.
Since 1970, it has offered approximately three minutes of personal reflection from faith leaders and believers of a variety of religious denominations.
Gwyneth Williams, the controller of BBC Radio 4, said: "I'm delighted Pope Benedict is sharing his Christmas message with the Radio 4 audience."
"It's significant that the Pope has chosen Thought For The Day to give his first personally scripted broadcast - and what better time to do so than on the eve of one of the biggest celebrations on the Christian calendar."
Austen Ivereigh, co-ordinator of the group Catholic Voices, welcomed the announcement, saying it was "another milestone" in the papacy's relations with the media.
"Just weeks after the publication of the first ever sit-down interview with a Pope comes the first ever papal Thought For The Day," he said.
"Benedict XVI is turning out to be highly communicative, adept at the kind of crisp, startling phrases which you need to use nowadays to break through the noise and willing to try non-traditional platforms to speak to contemporary society."
However, the decision was criticised by the UK's National Secular Society (NSS).
"The BBC is giving the Pope an unquestioned slot to continue whitewashing his Church's disgraceful record on covering up child abuse by its priests," NSS president Terry Sanderson said in a statement.
"Why isn't the Pope being subjected the same rigorous questioning that other heads of state would get?
"After the overkill from the BBC during the Pope's visit, this indicates the corporation's obsession with religion, whereas the nation is largely indifferent to it," he added.
Related Internet Links
The BBC is not responsible for the content of external sites.