Adopted Haitian children arrive in France for Christmas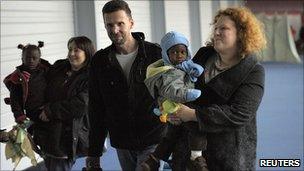 Some 200 Haitian orphans are being brought to France to be with their adoptive families for Christmas.
On Wednesday, a plane carrying the first group of more than 100 children arrived in Paris from Port-au-Prince.
Another flight carrying another 80 children is expected on Friday.
More than 300 adopted children are included in a special programme to bring them to France, after disruptions caused by the earthquake that devastated the country in January.
The children were all in the process of being adopted when the quake struck, killing over 250,000 people.
The disaster caused adoptions to be delayed with some records becoming lost.
Isabelle Frapat, one of the adoptive parents who had flown to Haiti, said on her arrival in Paris she felt "a lot of happiness" as she was holding her 15-month old adoptive child.
In Paris the children were examined by doctors, following the recent cholera outbreak that has killed more than 2,500 people in Haiti.
"As far as we can tell, the children are in good health," paediatrician Patrick Daoud told the AFP news agency.
Earlier, French Foreign Minister Michele Alliot-Marie, who was at the airport, told journalists: "Given the cholera outbreak, it is obvious that the urgency was becoming crucial, even vital in some cases."
The largest adoption programme of Haitian children - which was also speeded up after the quake - is in the US.
There have been smaller initiatives in countries such as Canada, Germany and the Netherlands.
International adoption has been a sensitive subject in Haiti after a group of US missionaries tried to take 33 children out of the country without proper documents in January.
Related Internet Links
The BBC is not responsible for the content of external sites.