Huge 'Macedonian-led' heroin ring broken up in Europe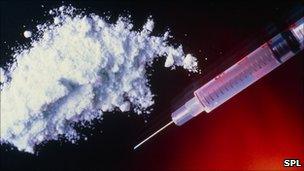 Austrian police say a huge Macedonian-led heroin-trafficking ring has been dismantled in a joint operation involving some 400 arrests.
Dubbed the "Frankfurt Mafia" because of its connections to Germany's financial capital, the ring allegedly controlled the heroin market in Vienna.
It was "one of the biggest blows against organised drug crime in Europe", an Austrian police chief said.
Arrests were made in Germany, Austria and Macedonia, going back to 2007.
Of these, some 300 were made in Germany, 69 in Vienna over the past 13 months, and 29 in raids in Macedonia on Wednesday.
Six of those detained in Macedonia are said to be organisers of the ring.
Several of the detainees owned apartments in Vienna and Frankfurt that were allegedly used for distribution of drugs to lower-level dealers.
Homes and restaurants owned by group members were searched and a large amount of money and drugs was found, Macedonian police said.'
Col Michael Mimra of the Vienna crime department told reporters on Thursday that the traffickers had taken control of the heroin trade in Vienna "in a short period of time".
The ring, described as "extremely brutal", forced out competitors "through violent intimidation".
The ring sold heroin for between 30 euros (£25, $39) and 40 euros. The authorities seized 170kg (375lb) of heroin in Germany and 26.3kg in Austria, Austrian police said.
"We noticed that this organisation was so good that it was able to replace large quantities of high-quality heroin within days," Austrian security official Franz Lang told reporters.
EU governments agreed earlier this year to step up action against the trafficking of heroin and cocaine into Europe, saying the illegal trade brought in "colossal" profits for criminals.
Heroin largely enters the EU through its eastern borders and Macedonian and other Balkan states have long been favoured routes for traffickers.
According to the latest EU data available, eight tonnes of heroin was seized in the EU and Norway in 2008.
Heroin and related drugs were present in the majority of drug-induced deaths reported in the EU this year, the European Monitoring Centre for Drugs and Drug Addiction reports.
Related Internet Links
The BBC is not responsible for the content of external sites.